So during my Whole30, I used Pinterest and other websites like Foodee to find recipes I could make that complied with the restrictions of the Whole30. We tried a lot of new recipes. Some were just okay. Others were fantastic and we decided we had to make them again. This is one of those recipes.
I originally found it through a friend on Pinterest. I'd never cooked pork tenderloin before but the recipe looked good. It turned out fabulous!
The recipe was originally found here:
http://kitchenconfidante.com/if-you-cant-stand-the-heat-part-ii
.
Garlic and Balsamic Pork Tenderloin
Yield:
Serves 6 (if you make both tenderloins...maybe).
Ingredients:
4-5 garlic cloves, finely minced or crushed
2 tablespoons balsamic vinegar
2 1/2 teaspoons coarse salt
1/2 teaspoon freshly ground pepper
2 tablespoons olive oil
2 pork tenderloins (about 1¼ pounds each)
2 tablespoons olive oil (if preparing in oven)
Directions:
Stir together garlic, balsamic vinegar, salt, pepper, and olive oil (first five ingredients) in a small bowl. Rub the paste all over pork. If you like or have the time, marinate overnight. If not, no worries, it will still be great! The first time I made it, we only had time to let it marinate for an hour and it was still fabulous! And don't worry if the ingredients don't form an actual paste. You need really good quality balsamic for that (i.e. expensive).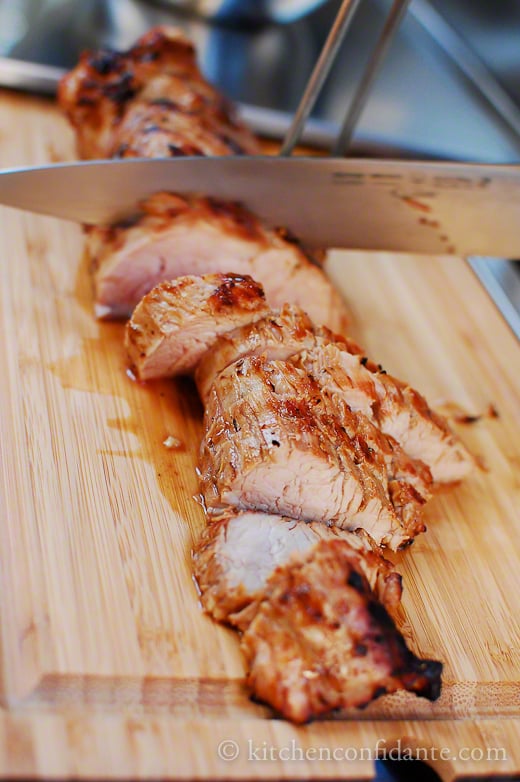 Grill preparation:
Sear the tenderloins on all sides, then grill for about 20-30 minutes, rotating every 10 minutes, until the internal temperature is 160 degrees. Try to let it rest before slicing.
Oven preparation:
Preheat oven to 400 degrees.
Heat oil in a large, heavy saute pan over medium-high heat. Working in batches if necessary, add pork, and brown all over, about 4 minutes.
Transfer pan to oven (or transfer tenderloin to oven-safe dish). Roast pork, turning occasionally, until the internal temperature is 145 degrees, about 20 minutes. Transfer pork to a cutting board, and try to let it rest 10 minutes before slicing.
I have only made the Oven preparation so I can only speak to that one, but we have loved it each time. It's fairly simple to make, delicious, and easy to freeze if you only want to cook one tenderloin at a time. I do have a hard time believing that two tenderloins can serve 6 people though...especially since Dan and I can go through one tenderloin just the two of us with very few leftovers. :) So don't be surprised if everyone gobbles this up and asks for more!
Happy cooking!
Meghan